Our services
Network security has become increasingly more difficult to manage and evaluate, even as industry and government compliance requirements have become more demanding. The network threats are real, and costly internal and external vulnerabilities can cause business disruption, loss of revenue, or loss of operational efficiencies. Because network security can be breached from both internal and external sources, traditional perimeter firewalls are not enough to protect the network.
Network Security
NLE provides new network security tools, network appliances, and professional services to secure networks large and small. NLE has identified these key components of network security that are needed in all organizations.
All businesses are trying to reduce unnecessary operational costs, and data management costs have escalated. Even technology savvy managers require expert help and superior advice to keep their businesses operationally intact.
The solution is to use NLE as your trusted partner in IT Managed Services, NLE helps reduce operational costs, simplify processes, and monitor the health and safety of your critical business applications.
Managed Services Offering
Your business plan probably did not include becoming expert in Cyber-Security, PC/Server Management, Regulatory Compliance, and Disaster Recovery. But even small businesses are impacted by critical data security threats and technology maintenance hurdles that detract from the core business goals.
NLE has developed vertical market partnerships for wireless networking products. Where there is a need in your market for a valuable expert to help you with your wireless network deployment or product offering, NLE is your partner. NLE, for example, is a valued partner that supply wireless network design and components for hundreds of libraries around the world.
Next Generation Firewalls
It is too costly and operationally inefficient to add-on each separate component as security threats emerge. Today's solutions use multiple scanning methods and multiple defense layers in high-throughput appliances. IDS/IPS, Anti-Virus, Content-Filtering, VPN, Anti-Spam, P2P control, etc. all needs to be included in a network security solution.
Network Access Control (NAC)
Creating differentiated network services based on individual access requirements is the key to regulatory compliance. The era of every user's ability to browse to all network resources should be over. Role-based networking is required to limit visibility to networks, servers, and TCP/IP ports and protocols, regardless of the user's point-of-entry into the network.
Mobile Computer Client Protection
Also referred to as "Mobile NAC", all network devices that can leave and join the network need to have accountability and control regardless of location. The ability to control laptops, PDA's, and other mobile devices when they are not connected to a VPN session is a key requirement.
SEIM and Non-SIEM Event Correlation and Log Analysis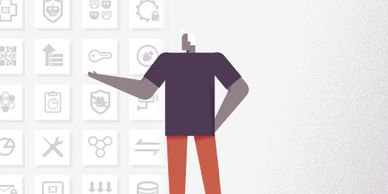 Security threats cannot be stopped by reviewing logs in "post-mortem" analysis. To stop "zero-day" threats, the network needs event-correlation and adaptive-response tools. While SNMP report tools still serve an important purpose for network engineers responsible for network health, other tools are required to correlate client, server, and firewall activities with computer application processes.
Layer-7 (Application Layer) Visibility and Packet Analysis
The ability to classify all applications regardless of port and protocol is essential for both security and performance analysis. In-line devices for analyzing and reporting network traffic across all OSI layers are essential for compliance, security assessment, and resolving performance issues. Server virtualization also introduces the need for monitoring tools to review traffic between two virtual servers.
Business Recovery Center
You need real disaster-recovery (not obsolete tape-style backups) and snapshots to recover immediately if server hardware fails. You should also add email and database backup and recovery.
Advanced Business-Continuance Process • Multi-Snap-shot incremental Server Backups • Standby Server – for hardware failures • Bare-Metal Server Recovery • Exchange Backup – mailbox level restore • Exchange Server Migration Process • Replication and Offsite Transfer Options • Desktop Backup Options • Remote Monitoring, Alerting.
This solution uses dedicated hardware appliances for all Backup/Recovery processes.
Managed Security Service
Advanced Application-Aware Firewall.
Web Content Filtering - Application Filtering.
Anti-Virus – In-Line, Gateway and End-point .
Anti-SPAM – In-Line.
Gateway • Intrusion Detection/ Prevention – In-line, Managed.
VPN – SSL and IPSEC.
Authentication – Active Directory, eDirectory, etc.
Bandwidth Shaping – Application aware.
System Health Monitoring – 24x7 Alerting.
Configuration, Transition, Help-Desk, Change Mgt.
Reporting, Alerting, Threat Response.
Wireless Networking
No other technology will change the way people work and collaborate more than wireless networking. The ability to move freely from workstation, to conference areas, or to remote sales opportunities, all with constant connectivity to data and communication services, is the promise of wireless networking. To fulfill the promise, careful consideration of security methods, adherence to standards and proper selection of components are a must.

NLE has been providing wireless network components and design services since 1993. NLE has followed the evolution of wireless networking standards and has successfully deployed many point-to-point, point to- multi-point, MESH and other 802.11 networks. NLE selects, tests, and offers wireless network components that are "best-of-breed" and deliver your required performance. For transition to the latest 802.11 wireless networks, there are considerable challenges for RF planning and co-existence with other 802.11a/b/g/N/AC networks. NLE has the tools and consulting to assist organizations with this transition.